Talar Foods

BG
Our Brands
READY TO EAT DISHES!
Ready to eat!
Kenar's ready-to-eat dishes are prepared with care and food attitude, and are in no way inferior to the homemade meals that you know well and love. We use carefully selected ingredients and aromatic spices. All our meals are free from presevatives. Apart from the traditional recipes, we have also created delicious options for the vegetarians.
Whom are Kenar's ready meals suitable for? The answer is simple – for everybody! For the busy ones and the tired ones. For those, who enjoy cooking and for those who love culinary art, but want to indulge in something comfortable and appetizing. For the fastidious ones and for the connoisseurs. For young and old. For the whole family and for every taste!
Products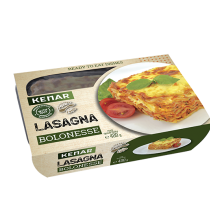 Lassagna Bolonesse
The classic taste of the Italian temptation - fresh tomatoes, fresh minced meat and the unique aroma of basil in combination with traditional Bechamel sauce. An explosion of flavors, spread between juicy dough crusts and cheese sprinkles for splendor!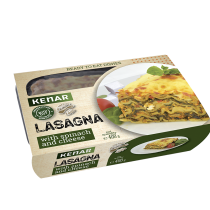 Lasagna with spinach and cheese
The fresh taste of spinach perfectly complements the thick Bechamel sauce to create a juicy vegetarian variation of your favorite lasagna. The cheese, tomato sauce and black pepper are the perfect complement that Kenar adds to this appetizing dish!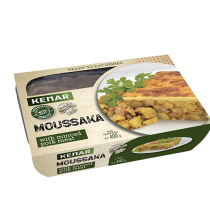 Moussaka
One of the most recognizable Bulgarian recipes is now under the iconic taste of Kenar. Fresh minced meat, cooked with well-baked potatoes, absorbed by the aroma of onions, fresh tomatoes and fragrant parsley. Seasoned and glazed, as any grandmother's tradition demands!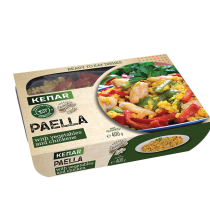 Paella
The colorful combination of red and green peppers, fresh chicken meat and fragrant rice creates a passionate fantasy for the palate! The taste of the paella, prepared a-la Kenar, will take you to the Mediterranean coast with every racy bite.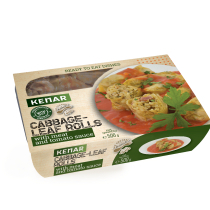 Cabbage-leaf rolls with meat and tomato sauce
A combination of specially selected cabbage varieties, quality rise and selected pork meat, is at the heart of the delicious Kenar cabbage-leaf rolls. Our classic cabbage-leaf rolls are dipped in juicy tomato sauce and skillfully seasoned with favorite spices.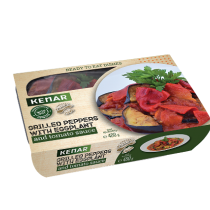 Grilled peppers with eggplant and tomato sauce
We prepare one of the classic summer dishes in Bulgaria by selecting quality vegetables – special eggplant and pepper varieties. We then season them with fragrant tomato sauce and favorite Bulgarian herbs, especially for you!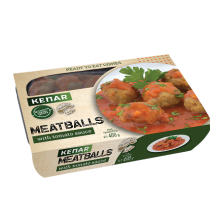 Meatball with tomato sauce
High quality food starts from quality raw materials. For our meatballs, we from Kenar have selected quality pork meats. Dish with no added soy and collagen. The tomato sauce is naturally prepared and seasoned with a selection of traditional spices.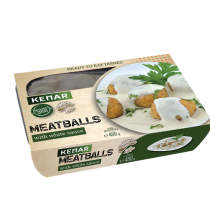 Meatballs with white sauce
For connoisseurs of meatballs in white sauce, we have prepared a well-known dish with high quality milk, selected spices and flour. The meat, used in the meatballs, is specially selected. Dish with no added soy and collagen.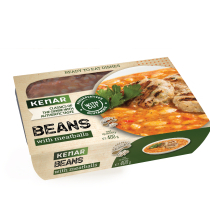 Beans with meatballs
Tasty and juicy meatballs, perfectly combined with wonderfully cooked and artfully spiced beans. A classic of the genre that easily fights hunger. Beans are extremely useful and suitable for people who are looking for authentic taste, and meatballs give a wonderful finish to this dish.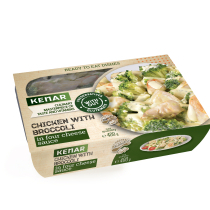 Chicken with broccoli in four cheese sauce
Four delicate types of cheese complement each other and melt between juicy chicken and crispy broccoli. Rich, creamy and full taste, created by an irresistible culinary combination.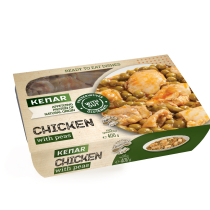 Chicken with peas
A meal preferred by many people for it's light but filling and dense taste. Tender chicken that has absorbed the aroma of the fresh and well-cooked peas, which, in turn, perfectly garnishes fresh meat.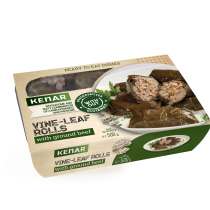 Vine-leaf rolls with ground beef
The unique taste of fresh veal and rice are combined extremely successfully with the aroma of the vine leaf. Served together in a rolls-form, they create a typical extravaganza of flavors, with no need for you to spend any time in cooking.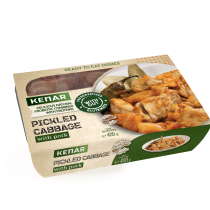 Pickled cabbage with pork
The well-known pickled cabbage envelops every piece of pork crumb, which dares to become a part of this delicacy, with a unique taste and flavor. In other words - a winter fairy tale on a plate!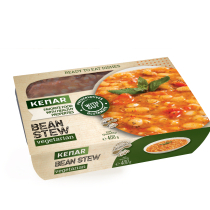 Bean stew
High-quality bean, fragrant spices and a painstakingly made recipe are behind this classic! Quickly and easily, enjoy the favorite of generations of people dish, which will always bring comfort and cozy memories. You no longer need to waste time in cooking, because the delicious bean stew is just a few minutes away.
Lentil stew
Aromatic and typical Balkan flavor. Rich in nutrients and plant proteins that help us feel full for a long time. Our perfectly cooked lentil stew might be without meat, but our hearts do not allow us to call it a lenten fare!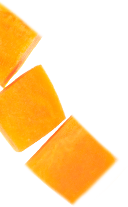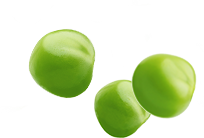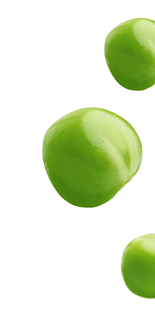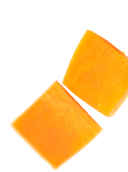 Packages
Cabbage sarmas with meat and tomato sauce