Talar Foods

BG
Our Brands
Tradition on the Table
The good taste we know from the old days
We love these granny's recipes, but we know that they take a long time and patience. We offer your favourite taste to save your time. This is Tradition for the Table – a range of well-known salads and dishes that are either ready to serve, or require minimum preparation before being served.
A range for the table
Tradition for the Table comprises stuffed vine and cabbage leaves carefully handmade because real stuffed leaves require special care. Tradition for the Table further comprises stewed potatoes with dill and garlic, or with red pepper, and why not nature – to season them to your taste. The tradition also consists of Russian salad, Snezhanka yogurt salad and lyutenitsa (tomato and pepper puree) – made in a way that exquisitely suits your table.

Especially selected raw materials and recipes
Tradition for the Table potatoes do not contain glutamate and artificial colours. Potatoes, vine and cabbage leaves, raw materials are being selected and processed by a special technology to preserve their properties and taste to the maximum extent.
Products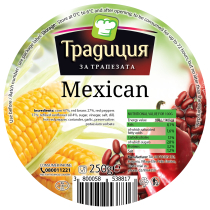 Mexican - new product
Fresh salad made from red beans, corn and red pepper, seasoned with a little vinegar, salt, dill, red pepper, coriander, garlic to create a unique flavor.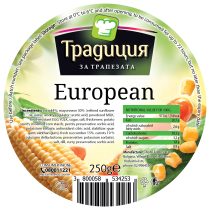 European salad
A refreshing mix of cucumbers, corn, and carrots, in mayonnaise sauce – the excellent starter for your table.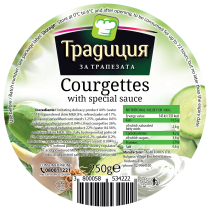 Courgettes with special sauce
A light blend of fried courgettes with special sauce, reminding us of the good old times.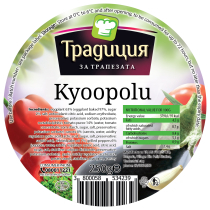 Kyoopolu
Creamy spread, made from roasted eggplan, peppers and garlic – an inseparable part of the traditional Bulgarian cuisine.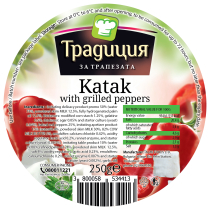 Katak with grilled peppers
Traditional Bulgarian Katuk with grilled peppers, and a selection of spices, bringing good taste and a feeling of family comfort.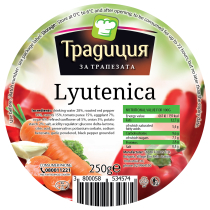 Apetitka
Typical Bulgarian, spicy snack, suitable as a starter or as nibbles alongside a drink.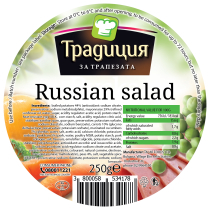 Russian Salad with Ham
Save time with our ready-to-eat Russian salad with traditional taste - favorite to all of us as well. Have it as a family dish or invite guests over.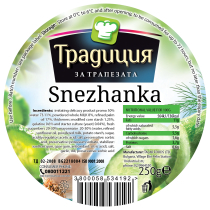 Salad Snezhanka
Snezhanka salad prepared in a traditional way to match your family lunch or dinner. Excellent as a side or a snack as well.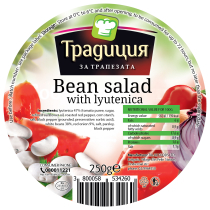 Beans with lyutenitsa
Bringing sweet memories from the old times when our grandmothers used to do it - beans with lyutenitsa, ready to serve as a side or appetizer.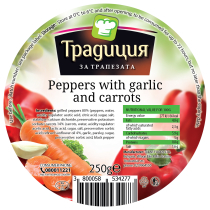 Peppers with garlic and carrots
A favorite snack and irresistible appetizer.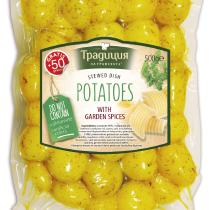 Steamed potatoes with garden spices
Seasoned with our special mix of herbs so you can have them ready-to-eat or add them to a cooked meal.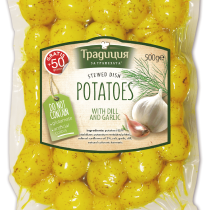 Steamed potatoes with garlic and dill
Steamed potatoes with garlic and dill - bringing you the traditional taste from the old times.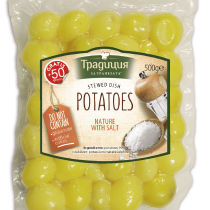 Steamed potatoes natur
What is a family gathering without a potato dish? Potatoes natur give you the freedom to flavor them according to your own tastes.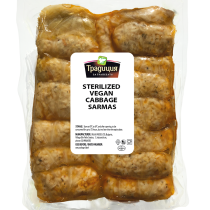 Vegan cabbage-leaf rolls
Vegan cabbage-leaf rolls, made with special care and attention.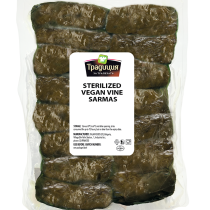 Vegan vine-leaf rolls
Vine leaves are carefully selected and prepared in order to best preserve their taste and quality.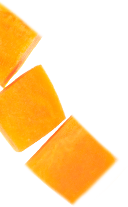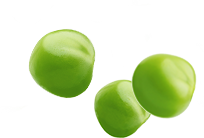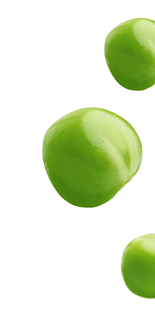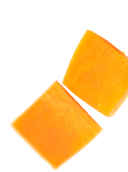 Packages