Talar Foods

BG
Our Brands
Kenar
To your taste
Kenar is a brand of mayonnaise, yogurt, yogurt imitating and vegetable salads with specially selected ingredients. The mayonnaise is made of first class sunflower oil, and raw vegetables are carefully selected to ensure excellent taste.
Kenar salad range comprises traditional salads such as Russian salad with pork ham, Snezhanka yogurt salad, home-made Kyopoolu (aubergine puree), Katuk (mash made of white cheese and yogurt) with baked peppers, Courgettes with special sauce, but also pays attention to different needs and desires (Russian salad without pork ham, for example). Kenar products may be used as an appetizer, salad or starter served in a creative manner.

Kenar Salads offer a variety of packages to meet the client's needs and to preserve the product quality in the best possible way.
Products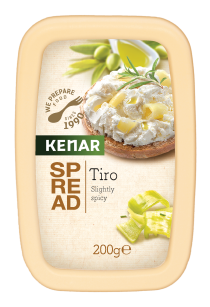 Spread Tiro KENAR
A dairy based spread prepared from few types of cheeses and in combination with a marinated yellow pepper. This spread has a distinctly spicy flavor that will awaken everyone's appetite.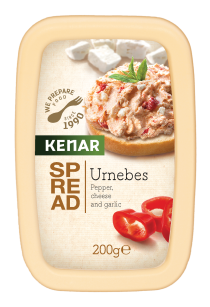 Spread Urnebes KENAR
Classic recipe of Urnebes or with other words combination of high quality ajvar prepared from red papers and cheese in fresh combination. Extremely suitable for warm summer days and for any alcoholic beverages.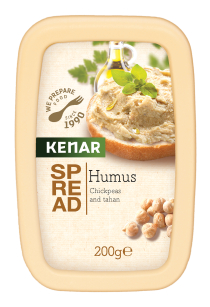 Spread Hummus KENAR
Natural hummus prepared from high quality chickpeas and tahan with freshly squeezed lemon juice and olive oil. The taste of this classical hummus will take you to the Middle East. We recommend individual consumption or in combination with one of our other irresistible spreads.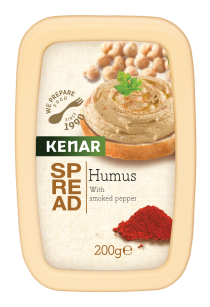 Spread Hummus with smoked pepper KENAR
In search of the irresistible taste we add to the classical humus smoked red pepper that gives a rich and even denser flavor. This spread is suitable for serving before main dishes to open the appetite of your guests.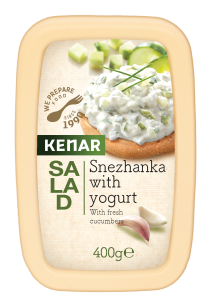 Salad Snezhanka KENAR
Our delicious Snezhanka is all-year round done with fresh cucumbers and it is a great side dish for the barbecue or in combination with a toast. During the summer months you can enjoy it with а cup of your favorite aniseed drink.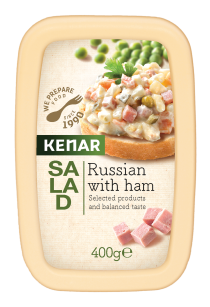 Russian salad with pork ham KENAR
Our special recipe for Russian salad Kenar is a balanced combination of high-quality pork ham, carefully selected and processed vegetables and premium mayonnaise, taking us back to our memories of home-cooked food.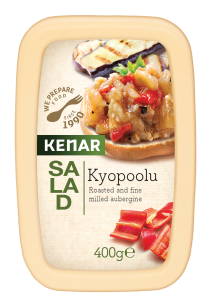 Salad Kyopoolu KENAR
Our Kyopoolu Kenar is prepared in the traditional way as a mix of grilled aubergine, peppers and a touch of garlic. The mild taste and light creamy structure make this salad very suitable as a appetizer or a delicious side dish.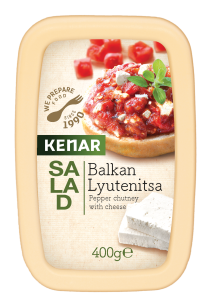 Balkan lyutenitsa KENAR
Тhе well-known taste of your favorite lyutenitsa combined with cheese is а perfect addition to every slice of bread.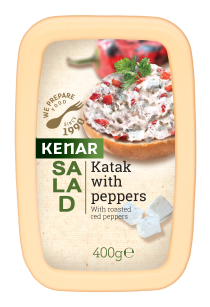 Katuk salad with grilled peppers KENAR
The traditional katuk with grilled peppers and a pinch of selected spices gives us a delicious appetizer or side dish.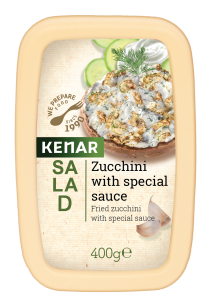 Salad Zucchini with special sauce Kenar KENAR
Zucchini salad with sauce is prepared from specially selected fried zucchini and a special yogurt sauce. We recommend this salad for consumption all year round.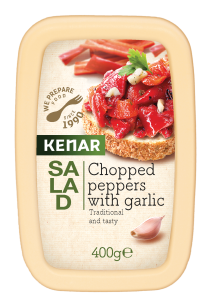 Pepper salad with garlic KENAR
Delicious grilled peppers in pieces, some garlic and fresh parsley - a favorite traditional Bulgarian salad. The perfect appetizer for a serious lunch.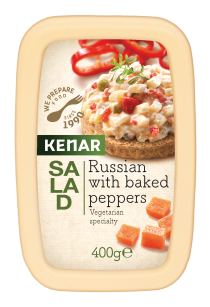 Russian salad with grilled peppers KENAR
Russian salad with a twist – we add grilled peppers and here comes a unique new taste. This delicious combination is perfect as an vegetarian appetizer, and serves to the various demands and tastes of our customers.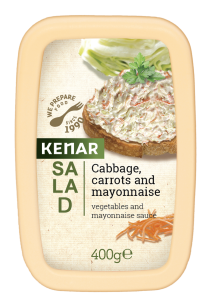 Salad with Cabbage, carrots and mayonnaise KENAR
The special combination of fresh vegetables and mayonnaise sauce is the perfect combination – filling but not heavy salad.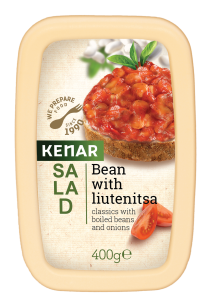 Salad Bean with liutenitsa KENAR
Liutenitsa is one of our favorite products, and her best friend is the bean. This salad is the perfect garnish to any grill!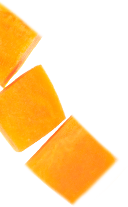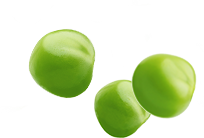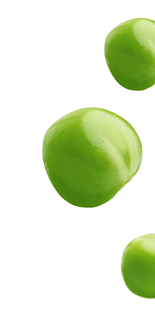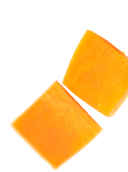 Packages